F-16 70mm EDF BNF Basic w/AS3X and SS
Die Lockheed Martin F-16 ist einer der erfolgreichsten und anerkanntesten einstrahligen Jäger der Welt. Ihre einzigartige Leistung und Fähigkeiten sind der Grund dafür, dass die weltbekannte Kunstflugstaffel der U.S. Airforce, die Thunderbirds, dieses Muster ausgewählt haben, um damit weltweit ihr Programm auf Flugshows zu zeigen. Die E-flite® F-16 Thunderbirds 70mm EDF ist ein vorbildgetreues Modell, welches trotz unglaublicher Leistung sehr einfach zu fliegen ist, vor allem wenn es mit der exklusiven AS3X und SAFE® Select Technologie ausgestattet ist (nur in der BNF® Basic Version verfügbar).
Funktionen
Vorbildgetreues Modell der Lockheed Martin F-16 Kunstflug Ikone
Inspirierende U.S. Airforce Thunderbirds Kunstflugstaffel Farben
Spektrum™ AR631 6-channel receiver with industry-leading DSMX® technology
Einfach zu fliegen dank optionaler SAFE® Select Flugunterstützung
Unvergleichbare Flugleistung, Stabilität und Präzision dank der AS3X® Technologie
12-Blatt Impeller liefert hervorragende Leistung
Werksseitig montierter 6S kompatibler Hochleistungsantrieb mit Brushless-Motor und 70A Regler
Funktionales und Werksseitig installiertes gedämpftes elektrisches Einziehfahrwerk
Werkseitig installierte Servos mit Metallgetriebe
Abnehmbare geteilte Tragfläche mit optionaler Bewaffnung
Langlebige und leichte Verbundstoff verstärkte Zelle aus EPO Material
Vorinstallierte Kugelkopf Anlenkungen für spielfreie Steuerung
Große glasklare Kabinenhaube mit detailliertem Cockpit und Pilotenfigur
Beiliegender Tunderbirds Dekorbogen
Der E-flite® F-16 Thunderbirds 70mm EDF Jet ist ein vorbildgetreues Modell des bekannten Flugzeugs, welcher von den bekannten Thunderbirds Kunstflugstaffel der U.S. Airforce geflogen wird. Das Modell bietet, wie das beeindruckende Original, ein breites Flugspektrum von stabilen langsamen High-Alpha Manövern bis hin zu schnellen Überflügen und einer unglaublichen vertikaler Leistung. Im Inneren werkelt ein 6S fähiger brushless Antriebsstrang mit einem 70A Regler, welche zusammen mit dem 12 Blatt Impeller eine unglaubliche Geschwindigkeit und Standschub sowie einen Turbinen ähnlichen Sound entwickeln. Das werkseitig eingebaute und gedämpfte Einziehfahrwerk ermöglichen Starts und Landungen von einer Vielzahl von Oberflächen inklusive Gras. Das Rollenverhalten am Boden ist damit sehr ausgewogen und jetähnlich. Die glasfaserverstärkte EPO Zelle ist leicht aber sehr robust und die digitalen Metallgetriebe Servos ermöglichen zusammen mit den Kugelkopf Anlenkungen eine sehr präzise Steuerung. Die Kombination all dieser Merkmale macht dieses Modell zu einem der am einfachsten zu fliegenden jedoch leistungsstärksten und fähigsten F-16 Modellen, die es je gab.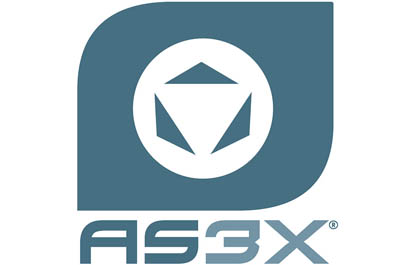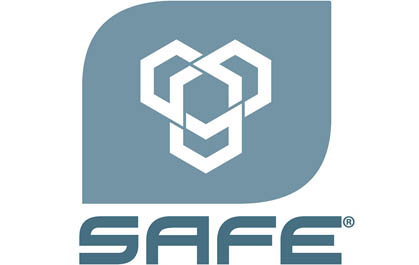 Beeindruckende Technologie
Die moderne Aerodynamik und leichtgewichtige Konstruktion werden durch die Stärke und Beständigkeit der speziellen EPO Schaum Mischung perfekt ergänzt. In Kombination mit dem leistungsstarken Impeller und der exklusiven AS3X Stabilisierung liefert diese F-16 ein Flugspektrum, welches schon näher an jenem eines 3D Kunstflieger als einem Hochgeschwindigkeitsjet liegt.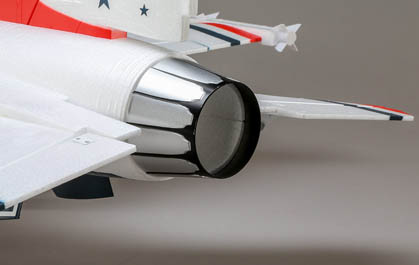 Leistungsstarker Impeller
Der 12-Blatt Impeller und Hochvolt brushless Innenläufer liefern in Kombination mit Deinem 6S LiPo eine unglaubliche Geschwindigkeitsbandbreite bei praktisch sofortiger Gasannahme. Was die Jet-Erfahrung aber abrundet ist der unglaubliche Turbinen-ähnliche Sound den das System produziert. Sie klingt beinahe wie das Original.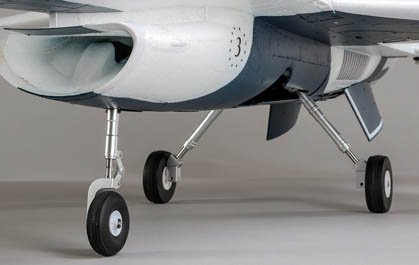 Elektrisches Einziehfahrwerk
Das werkseitig installierte Fahrwerk verfügt über zuverlässige elektrische Rückzüge, die mit langlebigen Metallkomponenten und stoßdämpfenden Streben ausgestattet sind, die das Fliegen von einer größeren Vielfalt von Oberflächen einschließlich gepflasterter Landebahnen und sogar Gras ermöglichen.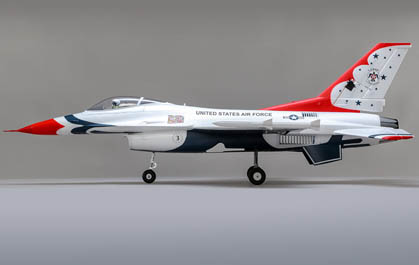 Robust
Die leichtgewichtige Zelle besteht aus haltbarem EPO Schaum, welcher durch Verstrebungen aus Verbundwerkstoffen eine Struktur erhält, die robust genug ist dem Stress hoher Geschwindigkeiten standzuhalten und trotzdem knackig auf Steuerbefehle reagiert.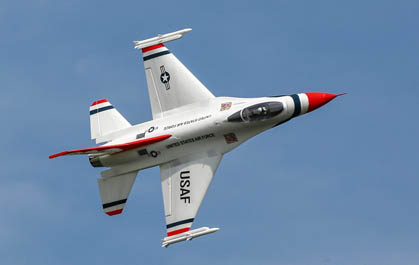 Unheimliche Manövrierfähigkeit
Diese F-16 bietet ein unglaubliches Handling, ein breites Einsatzspektrum und einen großen Geschwindigkeitsbereich. Diese Kombination erlaubt es große Loopings, dramatische und präzise Kunstflugfiguren aber auch mühelos High-Alpha Manöver zu fliegen.

Vorteile des Bind-N-Fly Fertigstellungsgrads
Dieses Bind-N-Fly® Basic Modell verfügt über einen AS3X® (Künstliche 3 Achsen Stabilisierung) Empfänger, welcher hinter den Kulissen dafür sorgt, dass der Einfluss von Wind und Turbulenzen ausgeglichen werden. Das Ergebnis ist eine Stabilität und Präzision welche Dir das Gefühl vermitteln, dass Du ein größeres und perfekt abgestimmtes Flugmodell steuerst.
Wenn dies Dein erster Hochleistungs-Jet ist oder Du einfach mehr Sicherheit beim Kennenlernen Deines neuen Modells möchtest, dann kannst Du die optionale SAFE® Select Technologie im Empfänger aktivieren. Es ist keine Programmierung notwendig, Folge einfach dem Bindeprozess wie er im Handbuch beschrieben ist.
Die SAFE Select Technologie bietet Dir:
Quer- und Längsachsen Beschränkung
In diesem Modus wird die Bewegung um die Quer- und Längsachse beschränkt und verhindert, dass das Modell sich auf den Rücken dreht. Sie verhindert auch zu steile Steig- oder Sinkflüge.
Automatisches Ausrichten
Das Modell geht automatisch wieder in eine normale waagerechte Fluglage über, wenn die Knüppel losgelassen werden. Dieses Feature ist auch dabei hilfreich die Flächen bei Starts und Landungen waagerecht zu halten.
infache Schalterzuweisung – keine Programmierung notwendig.
Der Vorgang um einen Schalter am Sender der SAFE Select Funktion zuzuweisen ist sehr einfach, erfordert keine Programmierung und ist in wenigen Sekunden erledigt.
Wenn Du keine SAFE Select Features aktivieren möchtest, dann genügt es den Empfänger normal zu binden und er funktioniert wie ein normaler AS3X Empfänger.
 Lieferumfang
    (1) F-16 Thunderbird 70mm EDF Airplane BNF Basic
    Spektrum™ AR631 6-channel receiver with industry-leading DSMX® technology
    (1) Bedienungsanleitung
Benötigt wird
    6–7+ Kanal DSMX®/DSM2® Sender mit voller Reichweite
    3200–4000mAh 6S 22.2V LiPo Flugakku mit EC5™ oder IC5® Anschluss
    Passendes LiPo Ladegerät
---
| | |
| --- | --- |
| Item number | EFL78500 |
| Contents: | 1,00 Set(s) |