68 F100 22S Drag Car, BL RTR, Losi Gar: 1/10 2WD
Ready To Pound The Pavement - Losi 1968 Ford F100 No Prep Drag Racing Truck
Seit Jahren das Maß aller Dinge in der Branche, stellt der Losi® 1968 Ford F100 No Prep Drag Racing Truck das wettbewerbsfähigste No Prep Drag Racing Ready-to-Run Set dar. Mit der steigenden Popularität von No Prep Drag Racing hat es Losi mit einem wirklich innovativen Design und einer hochwertigen Verarbeitung erneut ins Spitzenfeld geschafft. Der Ford F100 wurde sorgfältig ausgelegt, um ihm ein klassisches Aussehen zu verleihen, während er dennoch das Reglement der No-Prep- Drag-Racing-Szene passt. Er bietet alle Vorteile eines Aluminiumchassis wie Elektronikschutz, Seitenaufprallschutz und ein sauberes Kabelmanagementsystem mit vielen optionalen 22S-Teilen. Er wurde speziell für Rennfahrer mit vielen herausragenden Features entwickelt, darunter offiziell lizenzierte Mickey Thompson-Reifen, ölgefüllte vordere und hintere Stoßdämpfer mit Federwegbegrenzung, hinteren Stoßdämpfern mit niedrigem Schwerpunkt, verlängerten Karosseriehalterungen, optionalem robusten Stabilisator, vorderer Stoßfänger mit einstellbarem Gewicht, erhöhte Übersetzung, einstellbare Turnbuckles und eine voll einstellbare Wheelie-Bar. Du erhältst ein Ganzmetallgetriebe für absolute Zuverlässigkeit zusammen mit einem Spektrum™ SLT3-Sender und Dual-Protokoll- Empfänger, Spektrum Firma™ 100-Ampere-Smart-Regler und Spektrum Firma 6500-kV-Brushless-Motor. Von seiner robusten Karosserie bis zur hochmodernen Elektronik ist alles am Losi 1968 Ford F100 No Prep Drag Racing Truck bereit, den Asphalt Brennen zu lassen.
Features
Spektrum Firma 100 amp Smart ESC
Spektrum Firma 6500kv Brushless Motor
Spektrum SLT3 Sender und Dual Protokoll Empfänger
Völlig neues 22S-Aluminiumchassis
Offiziell lizenzierte 1968 Ford F100-Karosserie
Offiziell lizenzierte Mickey Thompson ET Drag Hinterreifen
Offiziell lizensierte Mickey Thompson Ultra Light Vorderreifen
LED Lichter
Alle Getriebe aus Metall
Elastische Akku Befestigungslaschen
Voll einstellbare Wheelie-Bar
Optionale Aluminiumteile erhältlich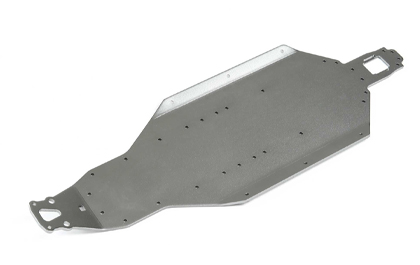 Aluminum Chassis
This 22 aluminum chassis will provide accurate and positive grip to the road when you are pushing the limits of power and traction. This chassis is designed with electronics protection, side impact guards, and a clean wire management system.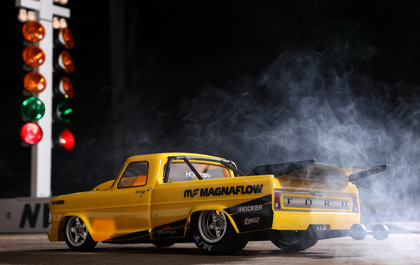 Designed To Race
Go from the box to the strip. The Losi 22S Drag Car is setup to race and adhere to the regulations set for competition No Prep Drag Racing. Setup to race 2S with a powerful 6500kv motor that is geared and ready to rock.
Spektrum Firma 100 amp Smart ESC, and Spektrum Firma 6500kv Brushless Motor
The Wheelie bar will surely be getting a work out when this powerful brushless system is released. This system will allow this Drag Car to propel its way down the lane at over 50+mph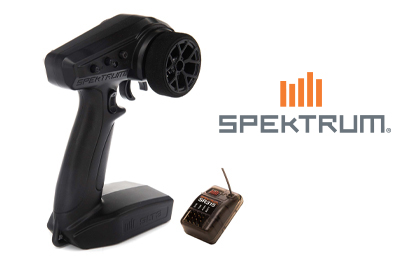 Spektrum SLT3 Transmitter and Dual Protocol Receiver
Spektrum SLT3 Transmitter and Dual protocol receiver will offer an excellent upgrade path for consumers to upgrade to DSMR Transmitters.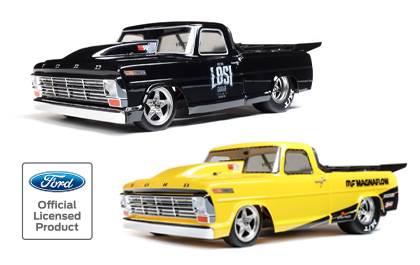 Officially Licensed 1968 Ford F100 Body
Scale realism with molded chrome grille and front bumper.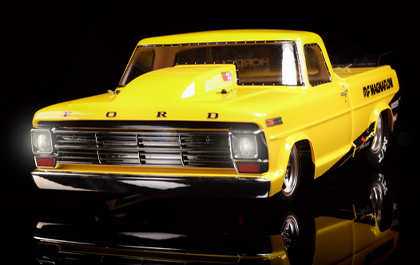 LED Lights
Light up the night with LED front headlights.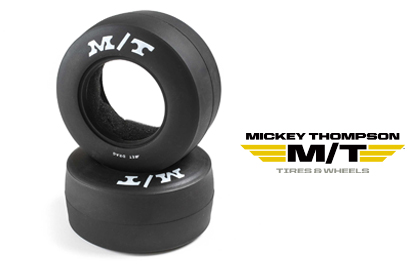 Officially Licensed Mickey Thompson ET Rear Drag Tires
The Mickey Thompson licensed rear tires will surely give you a great grip on the road, making sure you have the ultimate traction.
Officially Licensed Mickey Thompson Ultra Light Front Runner Tires
Mickey Thompson licensed front tires will provide you with plenty of tracking while having lower drag characteristics.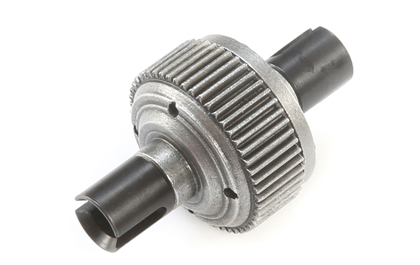 All Metal Gear Transmission
It comes with a heavy duty all metal gear transmission that can handle anything you can throw at it, giving you the confidence that you need to win the race!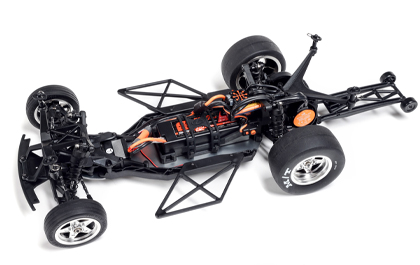 Weight Distribution
Weight distribution plays an important role when we are talking about racing. The truck features weight placement locations throughout giving you the ability to fine tune your ride.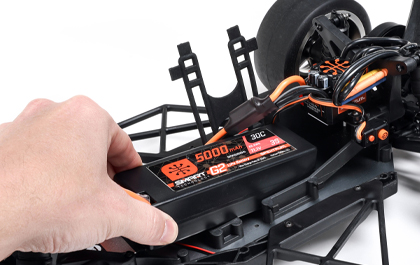 Elastomer Battery Straps
With the addition of an elastomer battery strap, your battery changes will be quick and easy. No more messing with clunky hook and loop. Simply slap your battery in, pull across the strap and hook it.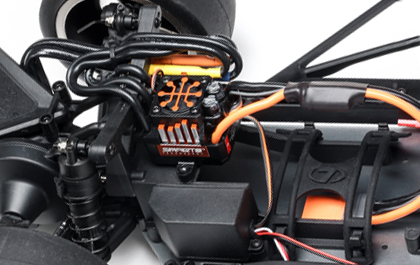 Clean Installation
Keep your interior as clean as the outside. The chassis includes wire routes that will keep your electronics and their wires in place and clean. Easily route your wires from the front and rear of the vehicle to your components without the need for an abundance of zip ties.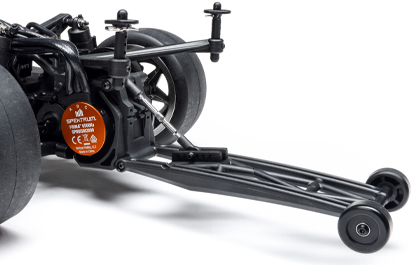 Fully Adjustable Wheelie Bar
While others only offer pre-set positions, we offer a turnbuckle to precisely tune your wheelie bar.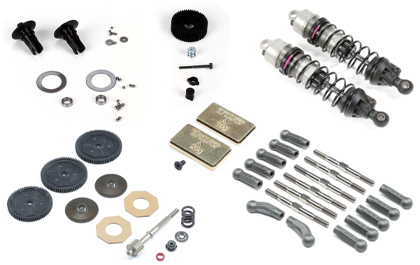 Aluminum Option Parts Available
Since it is based on the Team Losi Racing® 22 series of vehicles, many of the TLR® parts are natural performance upgrades that can take the performance of the 22S to an even higher level! Part upgrades available include, but are not limited to 22 GEN II Shocks, 22 Heavy Duty Slipper System (HDS), 22 GEN II Ball Differential, 22 Adjustable Turnbuckles/ballstuds, and many more! You also have the ability to utilize the aluminum option parts for the 22S.

Lieferumfang
(1) Losi 68 Ford F100 Drag Truck RTR
(1) Spektrum™ Firma™ 100 amp Smart ESC
(1) Spektrum Firma 6500kv Brushless Motor
(1) Spektrum SLT3 Fernsteuerung und Dual Protokoll Empfänger
(1) Bedienungsanleitung 
Benötigt wird
(1) 2-3S LiPo Akku mit IC5/EC5 Anschluss
(1) LiPo kompatibles Ladegerät
---
Instruction Manual - Losi 68 F100 22S Drag Car Brushless
Exploded View- Losi 68 F100 22S Drag Car Brushless