BlackJack 42 Twin Brushless 8S Catamaran black/orange: RTR
Sie ist größer, sie ist schneller, sie ist einfach umwerfend - die Blackjack von Proboat 8S RTR
Der Pro Boat® Blackjack ™ 42 Brushless 8S Katamaran versetzt Dich in die Zeit des Großmodell Rennsports, in dem Die mit Style und Speed gegen alle Kontrahenten antrittst. Jetzt mit Spektrum ™ Smart gibt es kein anderes Boot in dieser Größe mit so viel Leistung zu einem so attraktiven Preis.
Key Features
Schlagfester Polycarbonat Rumpf
Sauber abgeformtes Interieur
Aluminum Propeller Strebe
Aluminum Ruder
Polycarbonate Haube mit Aluminum Daumenschrauben
Der Pro Boat® Blackjack ™ 42 Brushless 8S Katamaran ist eine Rückkehr in die Zeit der großen Rennboote, die sich mit Style und Speed allen Kontrahenten stellen. Der wassergekühlte Spektrum Smart 8S 160A HV ESC versorgt unermüdlich den wassergekühlten 4-poligen Spektrum ™ Marine 4685 Motor, der bis zu 5,3 PS und mehr als 88 KMH leisten kann! Es gibt kein anderes Boot in dieser Größe mit so viel Leistung zu einem so attraktiven Preis. Natürlich wird alles vom Spektrum Smart ™ -System gesteuert, was dieses Speed-Monster unglaublich intelligent macht. Ein Spektrum DX3 ™ -Sender und ein wasserdichter 6-Kanal-Telemetrieempfänger SR6110AT verbinden das gesamte System, um einen störungsfreien Betrieb mit integrierter Telemetrie zu gewährleisten. Das Blackjack Boot verfügt außerdem über einen schlagfesten Polycarbonat-Rumpf, ein Polycarbonat-Verdeck mit Aluminium-Daumenschrauben, ein sauber geformtes Interieur sowie ein Aluminium-Ruder und eine Propellerstrebe. Lege Deine Karten auf den Tisch und erobere den See mit dem Pro Boat Blackjack 42 Katamaran.
Funktionen
Schlagfester Polycarbonat Rumpf
Polycarbonate Haube mit Aluminum Daumenschrauben
Spektrum™ Marine 4685 4 Pol, wassergekühlter Motor
Spektrum™ Smart 160A High Voltage, wassergekühlter ESC
Sauber abgeformtes Interieur
Aluminum Propeller Strebe
Aluminum Ruder
Spektrum™ DX3™ Fernsteuerung
Spektrum™ SR6110AT 6-Kanal Telemetrie Empfänger
Spektrum™ S904 1/6 Scale WP Digital Servo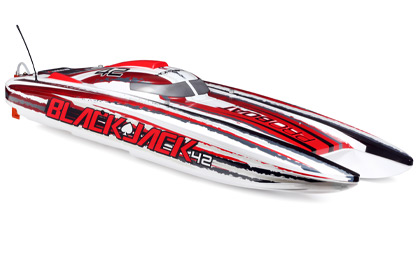 Schlagfester Polycarbonat-Rumpf
Zweiteilige Shoe Box Konstruktion für extreme Haltbarkeit des Rumpfes. Geformtes Verbundmaterial ist viel schlagfester als Glasfaser.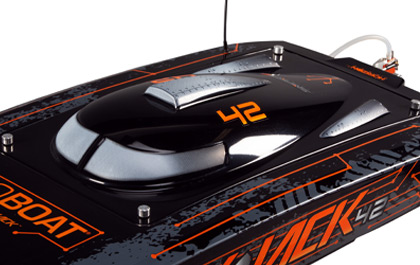 Polycarbonat Haube
Langlebiges Polycarbonat bietet eine wasserdichte Abdichtung und die Daumenschrauben bedeuten, dass kein Klebeband erforderlich ist, um die Haube auf dem Rumpf zu halten.
Spektrum ™ Marine 4685 4-poliger, wassergekühlter Motor
Rated at over 5 horsepower with 85%+ efficiency, this powerful 8S capable brushless and waterproof motor provides more than enough torque to hit 55+ MPH.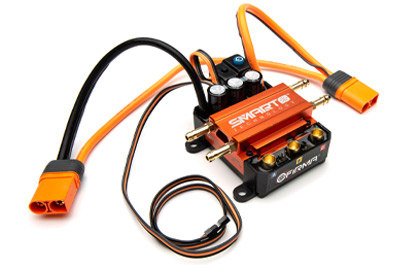 Spektrum ™ Smart 160A HV ESC mit Wasserkühlung
Er ist programmierbar, wassergekühlt, wasserdicht und Smart.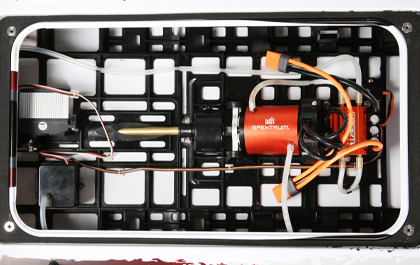 Sauber abgeformtes Interieur
Dies verleiht dem Rumpf Steifheit und Festigkeit. Der Innenraum ist holzfrei, um Fäulnis und Verfall zu vermeiden. Der Fettbecher verhindert, dass sich Fett im Inneren ausbreitet.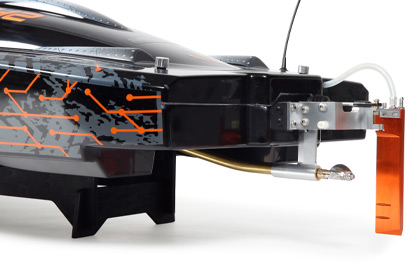 Propellerstrebe und Ruder aus Aluminium
Sowohl der Propeller als auch das Ruder sind aus eloxiertem Aluminium. Das Ruder verfügt über eine spezielle Abreißfunktion, die den Rumpf vor Beschädigungen schützt, falls schwimmende Fremdkörper getroffen werden.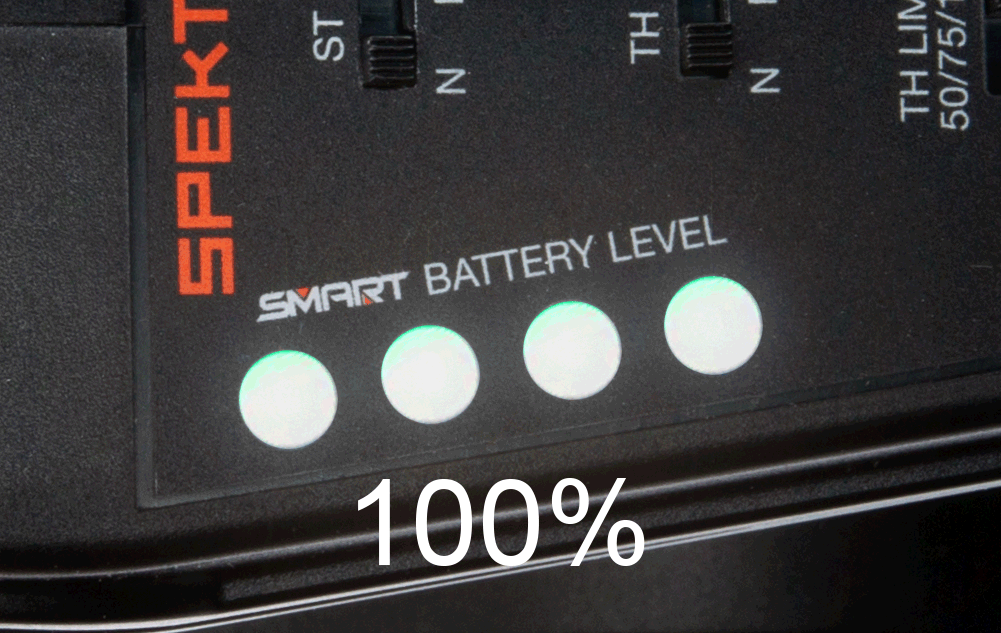 Smart ™ Aktiviert
Verliere niemals Deine Akkukapazität aus den Augen, wenn Du Smart ™ LiPo-Akkus im ProBoat Blackjack 42 verwendest. Der mitgelieferte Smart ™ -Sender kommuniziert mit dem mitgelieferten Smart ™ ESC und dem Empfänger, um Dir die verbleibende Akkukapazität des Bootes auf der DX3 ™ anzuzeigen.
SR6110AT 6CH Telemetrieempfänger
Der wasserdichte Empfänger sorgt für einen störungsfreien Betrieb.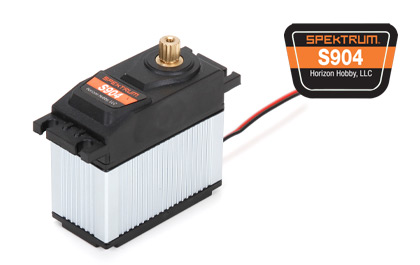 S904 WP 1/6 Digital Servo
Das High Torque Digital Servo liefert jede erforderliche Power. Durch die Abdichtung wird sichergestellt, dass das Servo der Aufgabe gewachsen ist, sich in einem Boot zu befinden, ohne dass Gefahr besteht wenn es nass wird.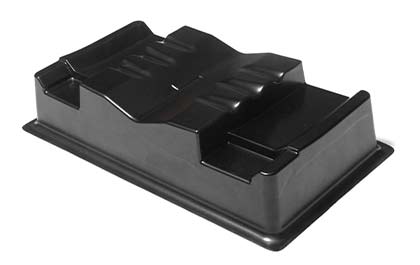 Bootsständer
Dieser speziell geformte Kunststoffständer passt sich perfekt der Kontur des Rumpfes an und bietet eine stabile Plattform, auf der Du Dein Boot ausstellen oder daran arbeiten kannst. Dieser Bootsständer hält ein Leben lang, ohne dass Du Dir Sorgen machen musst, dass das Wasser einen Holzständer verrottet.
Technische Daten
Antriebssystem: 2-Flügel Propeller mit Flexwelle
Höhe: 184,15mm
Länge: 1086mm
Gewicht: 4,1kg
Motor: Brushless 4985er Größe 1350kv
Propeller Größe: 1,7 x 1,6in für 5mm Welle
Ruder: aus Aluminium
Geschwindigkeit: über 90km/h
Lieferumfang
(1) Pro Boat® Blackjack™ 42 Brushless 8S Katamaran Boot
(1) Spektrum™ Marine 4685 4 Pol, wassergekühlter Motor (installiert)
(1) Spektrum™ Smart 160A High Voltage, wassergekühlter ESC (installiert)
(1) Spektrum™ S904 1/6 Scale WP Digital Servo (installiert)
(1) Spektrum™ SR6110AT 6-Kanal Telemetrie Empfänger (installiert)
(1) Spektrum™ DX3 Fernsteuerung
(1) Bootständer
(1) Bedienungsanleitung
Das wird benötigt
(2) 4S 5000mAh 50C+ Akkus mit IC5 Anschluss
(1) 4S fähiges LiPo Ladegerät
(1) LiPo Bag zum Laden
---
| | |
| --- | --- |
| Item number | PRB08043T1 |
| Contents: | 1,00 Set(s) |
Instruction Manual DE - BlackJack 42 Twin Brushless 8S Catamaran RTR
Instruction Manual EN - BlackJack 42 Twin Brushless 8S Catamaran RTR