SLEDGE grün RTR o. Akku/Lader 1/8 Truggy 4WD BRUSHLESS
Der Traxxas Sledge RTR Truggy - Offroad im Maßstab 1:8 neu definiert
Geprüft. Gebaut nach einem höheren Standard. Der brandneue Sledge wurde entwickelt, um Ihre Erwartungen an Qualität, Robustheit und Spaß zu übertreffen. Das felsenfeste Chassis, der massive Stahlantrieb, die wilde 6s-Power und das vom Rennsport inspirierte Handling lassen alles andere im Stich.
Der brandneue Sledge bietet ein kraftvolles und erfüllendes Traxxas-Erlebnis. Das bedeutet  erstklassige Leistung , ultimative Qualität und Langlebigkeit  , die  ihresgleichen sucht .
Entwickelt für 6
s

Power

 

Sledge ist der einzige Truck in dieser Klasse mit einem richtig dimensionierten, 6s-fähigen Antriebsstrang. Größere Gänge. Mehr Stahl. Grundsätzlich bombenfest. Sledge zerschmettert den Status quo, um der neue Standard für extreme 6s-Haltbarkeit zu sein.
Überlegene Chassis-Stärke
Sledge ist so konstruiert, dass es das stärkste Chassis seiner Klasse hat. Die triangulierte Chassisstruktur integriert eine tiefgeformte Aluminiumplatte mit einem Mehrpunkt-Verbundtraversensystem und der zum Patent angemeldeten T-Bar™ in voller Länge. Auf einem soliden Fundament aufgebaut,  ist Sledge dort am stärksten, wo es am wichtigsten ist .
Neuer Clipless-Körper
Entfernen und ersetzen Sie den Körper in nur wenigen Sekunden mit exklusiven, zum Patent angemeldeten klicklosen Körperlösungen, die von Traxxas entwickelt wurden. Sledges klickloser Körper geht glatt mit einem befriedigenden Schnappschuss weiter. Der Körper ist so konzipiert, dass er sich löst, wenn SIE ihn loslassen.
Monster-Servo
Sledge ist mit einem Hochleistungs-Metallgetriebe-Servo ausgestattet, das ein enormes Drehmoment in einem wärmeableitenden Aluminium-Mittelgehäuse verpackt. Eine leistungsstarke und zuverlässige Steuerungsautorität ist gewährleistet, ohne dass ein Upgrade erforderlich ist.
Das Stromversorgungssystem des
VXL

-6

 

Der Velineon VXL-6s verfügt über neue Hardware und ein neues Tuning speziell für den 2000-kV-Motor. Zusammen liefern sie wesentlich mehr Leistung unter der Kurve für mehr Durchschlagskraft im mittleren Bereich und eine harte Beschleunigung, die Sie sehen und fühlen können.
Vorschlaghammer-Reifen
Premium Sledgehammer ® -Reifen gehören zur Standardausrüstung. Kein Reifenupgrade erforderlich. Strapazierfähige Schaumstoffeinsätze sind so konzipiert, dass sie sich nicht zusammenballen oder zusammenbrechen. Die zum Patent angemeldete Traxxas-Innovation verbessert den Reifenklebeprozess, um die Wahrscheinlichkeit eines aufgeplatzten Wulstes zu verringern und gleichzeitig den oberen Bereich der Leistungsfähigkeit von Sledge zu erkunden.
Entdecken Sie Sledge in 360°
Lieferumfang
Sledge, Ready-To-Race ® Monster Truggy mit Brushless 2000 kV Motor
VXL-6s wasserdichter elektronischer Geschwindigkeitsregler mit integrierter Telemetrie
Schnellstartanleitung
hochwertige TQi ™ 2,4-GHz-Funksystem
Wartungswerkzeuge
Überbrückungsstecker (für 1x 4s LiPo Betrieb)
Benötigt wird
LiPo-Akkus

2x 5000 mAh 3-Zellen 11,1V Power Cell LiPo-Akkus für maximale Leistung.
Alternativ 2x 7600 mAh 7,4V LiPo-Akkus oder 1x 6700 mAh 14,8V LiPo-Akku zum betreiben des Fahrzeuges mit reduzierter Leistung.
NiMH-Akkus werden nicht unterstützt.

LiPo-Balance-Ladegerät mit iD

Traxxas EZ-Peak ® Live 4s-fähiges Ladegerät für eine einfaches & schnelles Aufladen (z.B.: TRX2971).

AA-Alkalibatterien

4x AA-Alkalibatterien für den Sender.
---
Länge (einschließlich Flügel):
23,78 Zoll (604 mm)
Vorderspur:
18,10 Zoll (459 mm)
Hintere Spur:
18,10 Zoll (459 mm)
Bodenfreiheit:
1,95 Zoll (50 mm)
Gewicht (ohne Akku):
12,74 Pfund (5,77 kg)
Höhe (insgesamt):
8,43 Zoll (214 mm)
Radstand:
15,10 Zoll (384 mm)
Stoßdämpferlänge (vorne):
5,12 Zoll (128 mm)
Dämpferlänge (hinten):
5,67 Zoll (144 mm)
Reifendurchmesser:
6,7 x 3,3 Zoll (170 mm x 84 mm)
Raddurchmesser:
3,8 Zoll (97 mm)
Geschwindigkeitskontrolle:
Velineon® VXL -6s (#3485)
Motor (elektrisch):
Velineon® 2000kV Bürstenlos
Gesamtantriebsverhältnis:
17.2 (13/52 Motorritzel und Stirnrad)
Differentialtyp:
Versiegelter, gehärteter Stahlschliff, begrenzter Schlupf
Gear Pitch:
Module 1.0
Chassis Structure/Material:
3.2mm aluminum plate
Brake Type:
Electronic
Drive System:
Shaft-driven 4WD
Steering:
Double-shear bellcrank w/metal servo arm
Wheels & Tires:
3.8" wheels, pre-glued Sledgehammer® Tires & foam inserts; 6.7x3.8
Radio System:
2-Channel, TQi™ 2.4GHz Transmitter with TSM® receiver
Servo:
2275 Waterproof, metal-gear (347oz-in torque)
Top Speed:
70+ MPH with two 3S LiPo batteries and optional gearing (sold separately)
Skill Level:
4
Battery Tray:
Narrow configuration (L/W/H): 181mm x 50mm x 29/37/45mm*
Wide configuration (L/W/H): 160mm x 57mm x 29/37/45mm*
Required Batteries:
4 "AA" (transmitter), Vehicle (see battery finder)
*Unter Verwendung des mitgelieferten optionalen Schaumstoff-Abstandshalters
| | |
| --- | --- |
| Type: | 2000 kV sensorless brushless |
| Weight: | 14.32oz (406g) |
| Length: | 2.97 inches (76mm) |
| Diameter: | 1.65 inches (42mm) |
| Connector Type: | Traxxas 6.5mm bullet connectors |
| | |
| --- | --- |
| Input Voltage (cells): | 4s–6s LiPo (max: 25.2 volts) |
| Case Size: | 2.28 inches (58mm) x 2.83 inches (72mm) x 1.81 inches (46mm) |
| Weight: | 7.30oz (207g) |
| BEC Voltage: | 6.0 V |
| BEC Current Continuous: | 10 A |
| BEC Current Peak: | 20 A |
| Reverse Delay: | Yes, with lockout |
| Ports: | RX input, auxiliary fan, Traxxas accessory port |
Motor Type:
Brushed
Operating Voltage:
6.0V DC
7.4V DC
Torque:
347 oz-in
486 oz-in
Speed:
0.25 sec/60°
0.16 sec/60°
Weight:
67g
Gears:
Metal
Output Spline:
25T
Case:
Plastic top/bottom, anodized aluminum center
Controller:
Digital
VXL-6s Waterproof Electronic Speed Control

6s LiPo compatible
Integrated cooling fan
Real-time telemetry via Traxxas Link™
3-LED status indicators
Powered accessory ports
10-gauge silicone wire
Patented Traxxas High-Current Connectors

Velineon® 2000kV Brushless Motor

4-pole 2000kV brushless motor
5mm output shaft
Finned can for better heat dissipation
Aluminum motor cradle mount

Supports entire motor
Reduces flex for longer gear life

Up to 70+ mph with Two 3s LiPo Batteries
Traxxas Stability Management® (TSM)

Improves straight line acceleration and braking on low-traction surfaces
Never dulls throttle or slows the truck
Adjusts from off to 100% assistance from the transmitter

TQi™ 2.4GHz High Output Radio System

TQi™ 2-channel transmitter
Automatically stores and loads settings for up to 30 Traxxas Link-enabled models
Programmable multi-function knob
Adjustable steering and throttle percentage (dual rates)
Adjustable steering and throttle sensitivity (exponential)
Adjustable steering and throttle end points
High 13ms frame rate and near-zero latency for responsive control
5-channel micro receiver (#6533) with fail-safe security
Patented waterproof receiver box with easy-access plug
Drivetrain

Heavy-duty steel driveshafts
Large 8mm steel stub axles
Steel dogbone center driveline
Protective rubber boots on differential inputs

Transmission

Mod-1 pinion and spur gears
Fixed gear mesh system
Torque-Biasing Center Drive

Differentials

Heavy-duty sealed 4-gear design
Large scale steel ring and pinion gears
Oversize 8mm output shafts
Steel drive cups
Easy-access bulkheads

Oil-filled GT-Maxx® Shocks

Longer rear shocks for more travel
Machined aluminum threaded body
Extra-large bore and capacity
Large-diameter damper shaft
Lower cartridge with dual X-rings
Height-adjustable spring retainer
Lower spring perches bolted on

Suspension

Performance-optimized geometry
Ultra-tough composite arms

Made from our strongest cold-weather material
Molded insert for clean look
Rear rock deflectors
Press-in hinge pins to reduce play

Oversize molded toe and camber links
Heavy-duty C-hubs

Stronger than conventional designs
Require no adjusments

Multiple mounting points for suspension tuning
Chassis

3.2mm ribbed aluminum chassis

Formed edges for improved strength

Thick T-Bar™ for added rigidity
High-strength buttressing on shock towers
Ultra-thick 5mm 6061-T6 aluminum shock towers
Rugged locking battery compartment with quick-release door
Low-CG design for improved handling
Interlocking components for tight tolerances
Tough front and rear bumpers double as skid plates
Hidden wire management for clean appearance

ProGraphix® Body

Clipless body mounting system
Rigid internal frame
Molded body reinforcements for tear-through protection
Protective roof skids
Rugged high-downforce rear wing

Wheels and Tires

Huge 6.7" Sledgehammer® all-terrain tires

TSM-rated construction resists ballooning

Tough 3.8" black wheels
Splined 17mm aluminum axle hubs

Steering

High-throw bellcrank steering design
Heavy-duty servo saver with aluminum posts
Metal servo horn
Powerful #2275 metal gear servo

347 oz-in torque
Fully waterproof

Sealed Ball Bearings
Hex hardware with Rust-Resistant Black Oxide Coating
MODEL 95076-4:
Sledge 1/8 scale 4WD brushless monster truck. Fully assembled, Ready-To-Race
®
, with TQi
™
2.4GHz radio system,
VXL-6s
brushless power system, and ProGraphix
®
clipless body.
What's In The Box:
Sledge, Ready-To-Race® monster truck with Traxxas 2000kV brushless motor

VXL-6s

waterproof electronic speed control with integrated telemetry
Quick Start Guide
TQi™ 2.4GHz radio system
High quality maintenance tools
Jumper plug (for 4s battery use)
What You'll Need:
LiPo Batteries

Traxxas recommends dual 5000mAh 3-cell 11.1V Power Cell LiPo batteries for maximum performance. Dual 7600mAh 7.4V LiPo batteries or a single 6700mAh 14.8V LiPo battery will operate the vehicle with reduced performance. NiMH batteries are not supported.

LiPo Balance Charger with iD™

Traxxas EZ-Peak® Live 4s-capable charger is recommended for easy and fast charging performance (model #2971).

AA Alkaline Batteries

Four AA alkaline batteries for the transmitter.
SLEDGE - NACH HÖCHSTEM STANDARD ENTWICKELT UND DESIGNED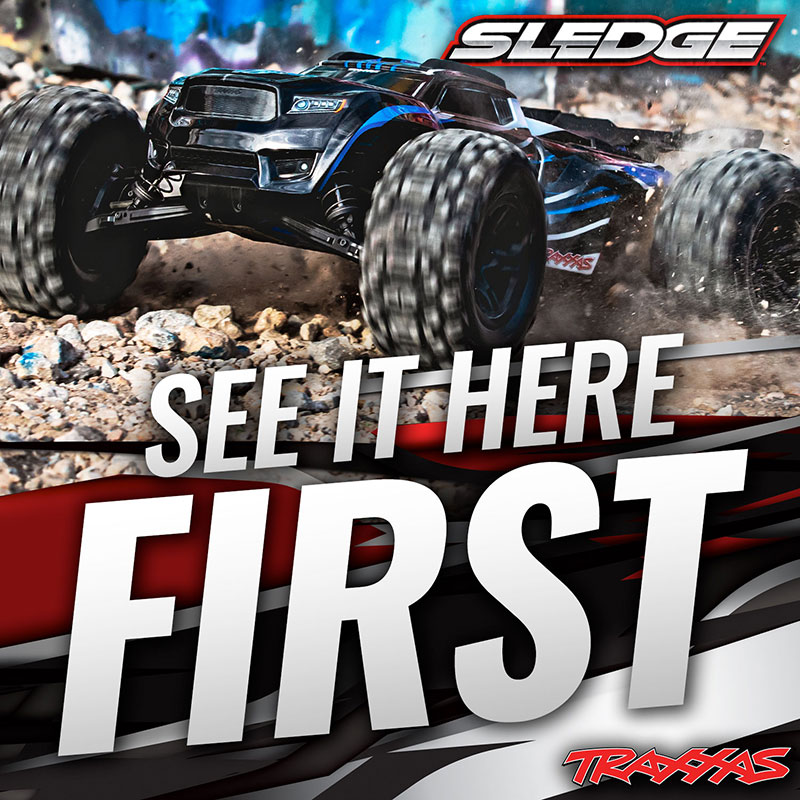 TRAXXAS hat mit dem SLEDGE 1/8 einen Truck fürs Racing und Bashing entwickelt.
Unzählige Entwicklungs- und Teststunden sind in diesen Truck geflossen, um Schwachstellen zu beseitigen und höchste Standards zu gewährleisten. Das Resultat ist reine Perfektion!

MODERNES DESIGN
Der SLEDGE wurde speziell für die Anforderungen eines ambitionierten R/C-Fahrers entwickelt und beweist seine Stärken allen voran in Skateparks und auf Strecken mit Monsterrampen. Die präzisionsgefertigten Komponenten sind dennoch leichtgängig und ultrastabil.

EIN FAHRERLEBNIS FÜR ALLE
Der SLEDGE ist das perfekte Modell für jeden R/C-Basher, der das maximale aus seinem Fahrzeug herausholen und dabei unübertroffene TRAXXAS-Qualität und überragende R/C-Technik erleben möchte.

TRAXXAS läutet eine neue Ära von 1/8 Trucks ein, die Sie in diesem Segment kein zweites Mal finden werden. Der SLEDGE ist das perfekte Modell für bestehende 1/8 Truck Besitzer, die sich noch mehr Leistung und Geschwindigkeit wünschen oder für Einsteiger, die ein unverwüstliches Modell suchen.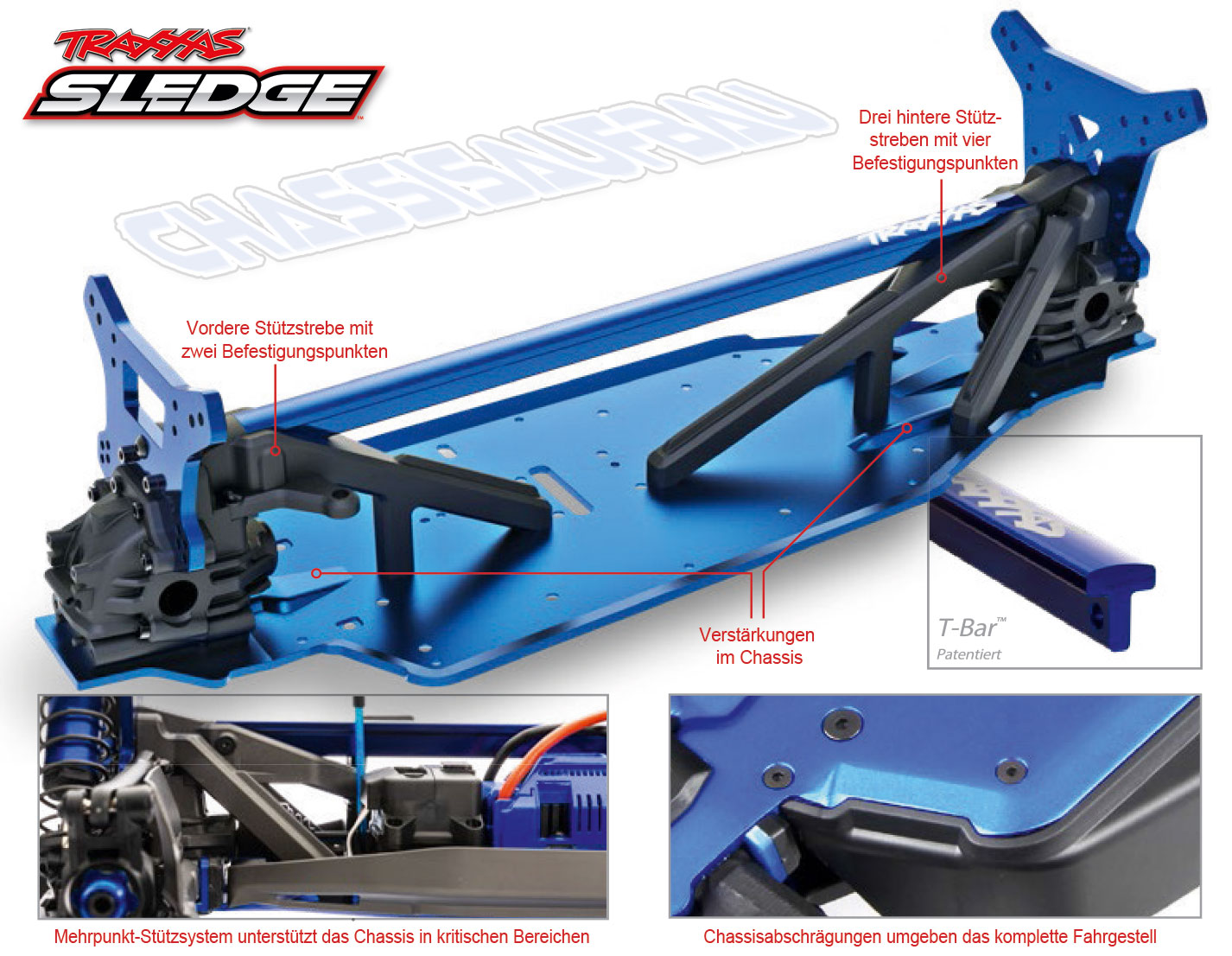 ÜBERLEGENE TECHNIK - CHASSISAUFBAU
Bei der Entwicklung des SLEDGE war das Ziel, das stärkste Chassis im 1/8 Segment zu entwickeln.
Die triangulierte Chassisstruktur integriert ein tiefgeformtes T6-Aluminium Chassis mit einem mehrfach befestigten Stützsystem und einer durchgehenden exklusiven T-Bar Strebe aus Aluminium. Der SLEDGE ist genau an den Stellen am stärksten, wo es am wichtigsten ist!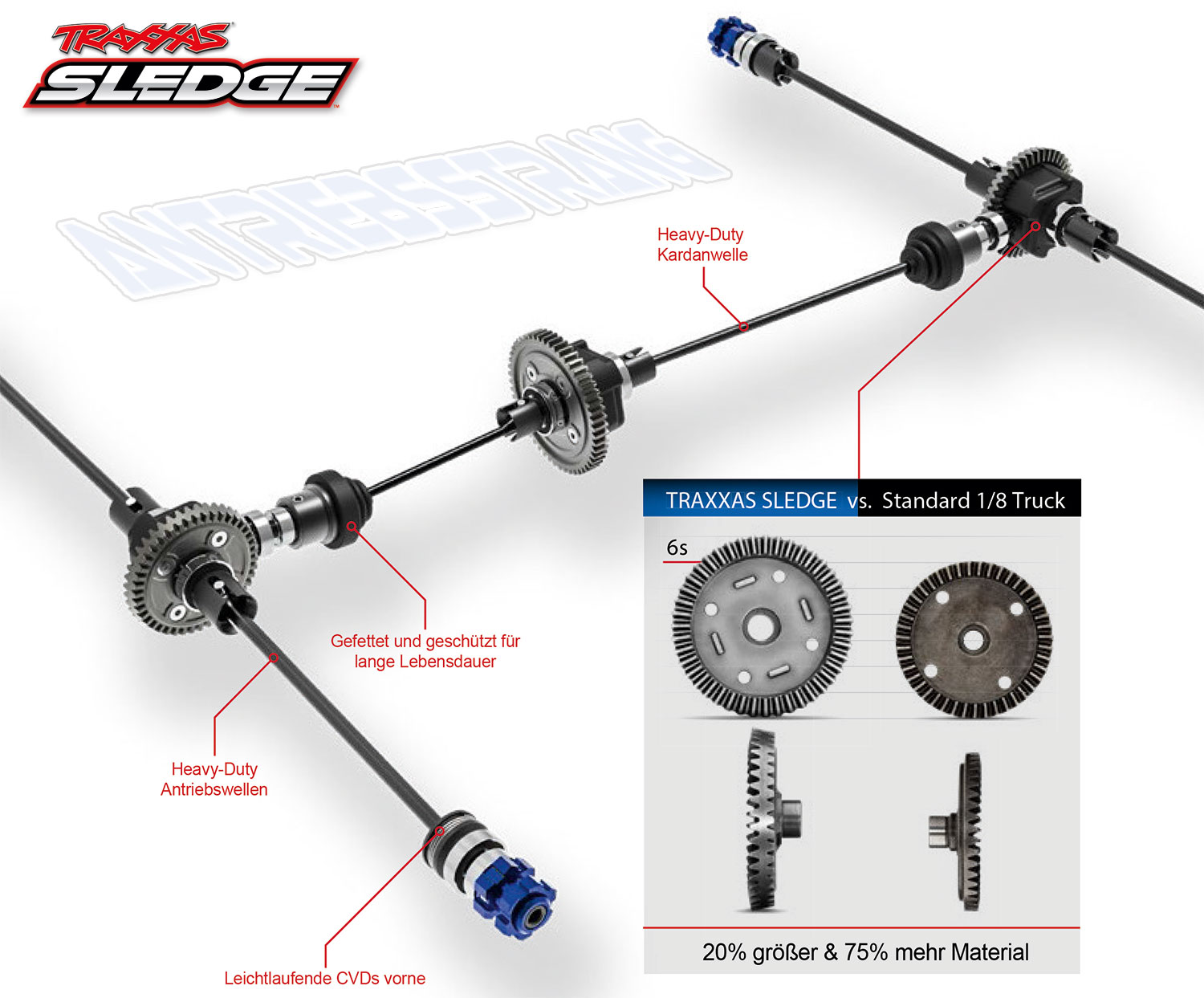 HÖHERER STANDARD - ENTWICKELT FÜR 6S
Der SLEDGE ist der einzige Truck in dieser Klasse, der einen optimierten Antriebsstrang für die 6S-Leistung aufweisen kann. Größere Zahnräder + mehr Material = Bombenstark.
Das Heavy-Duty Mitteldifferenzial ist mit hochwertigem Schmieröl für druckvolle Leistung gefüllt. Die Differenziale sind um 20% größer und 75% stärker als in vergleichbaren 1/8 Modellen.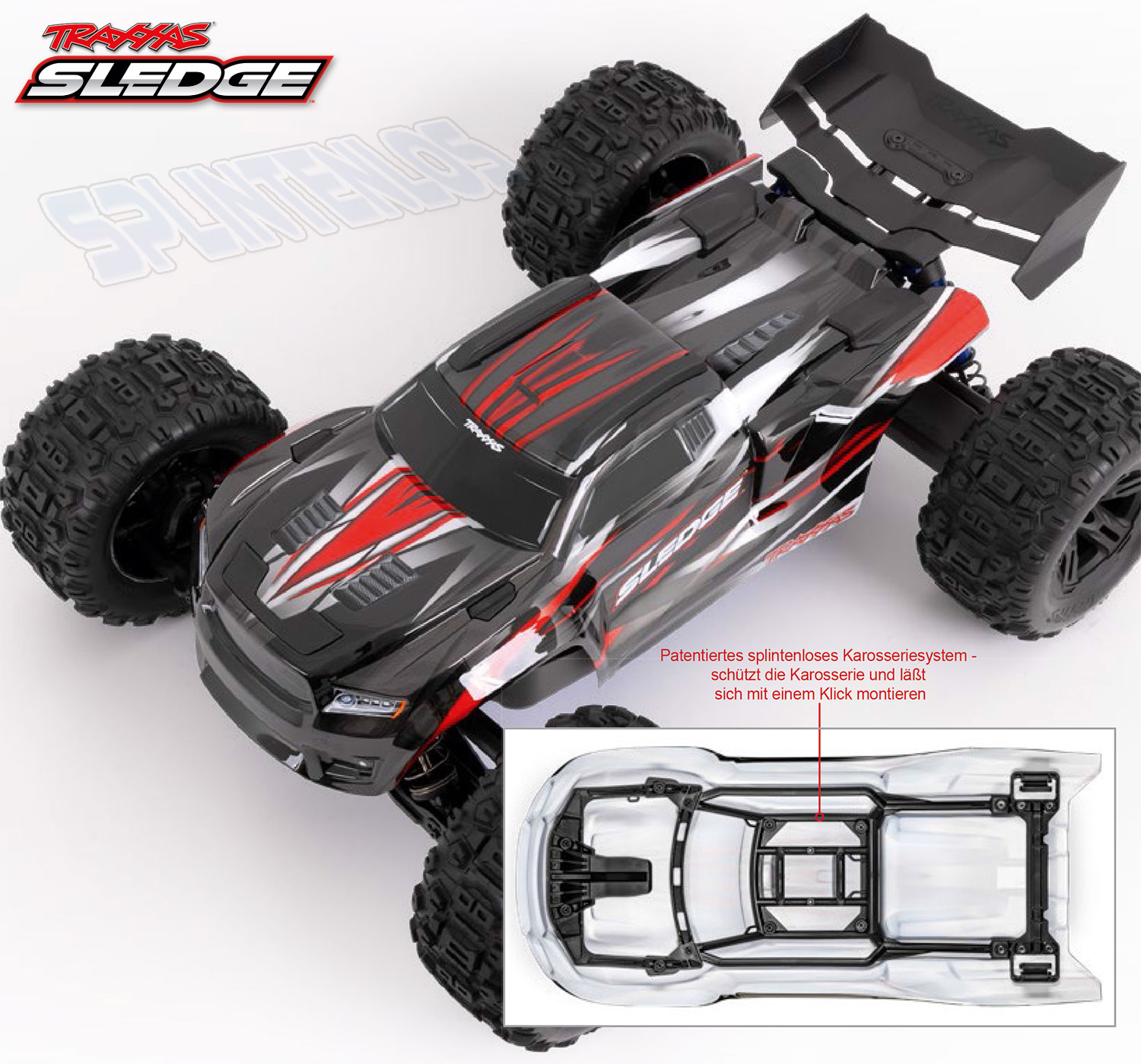 SPLINTENLOSE KAROSSERIEMONTAGE
Das patentierte splintenlose Karosseriesystem hat gleich mehrere Vorteile: Die Karosserie wird von einem Rahmen verstärkt, mit dem innovativen Clipsystem in wenigen Sekunden montiert und sie geht erst wieder ab, wenn Sie es wollen!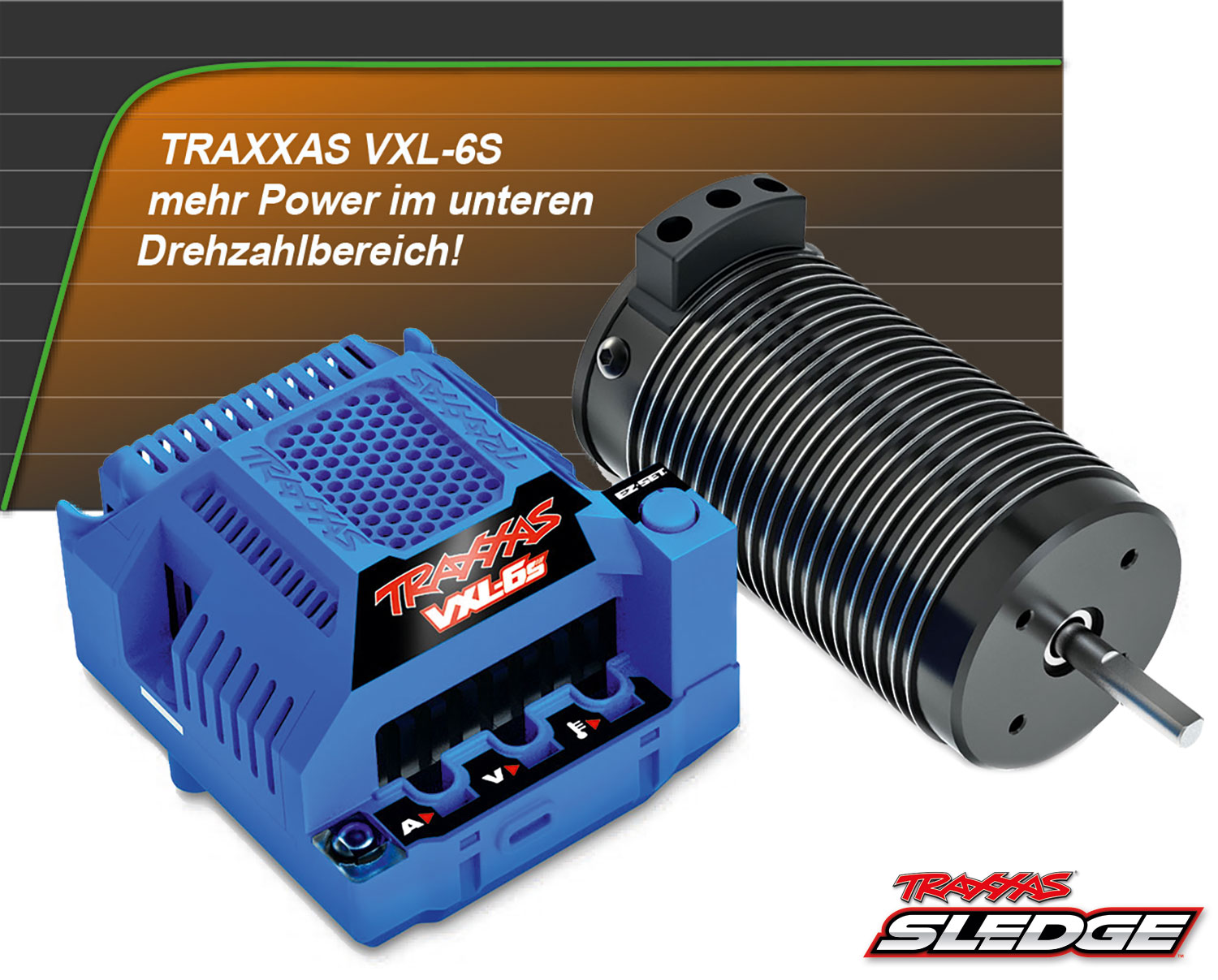 VXL-6s™ POWER SYSTEM
TRAXXAS stärkstes 6S-Antriebssystem! Dieses VXL-6S System verfügt über spezielle Tuning-Einstellungen für den 2000kV Brushless Motor. Effiziente Komponenten und Elektronikteile sorgen für mehr Power im mittleren Gasbereich.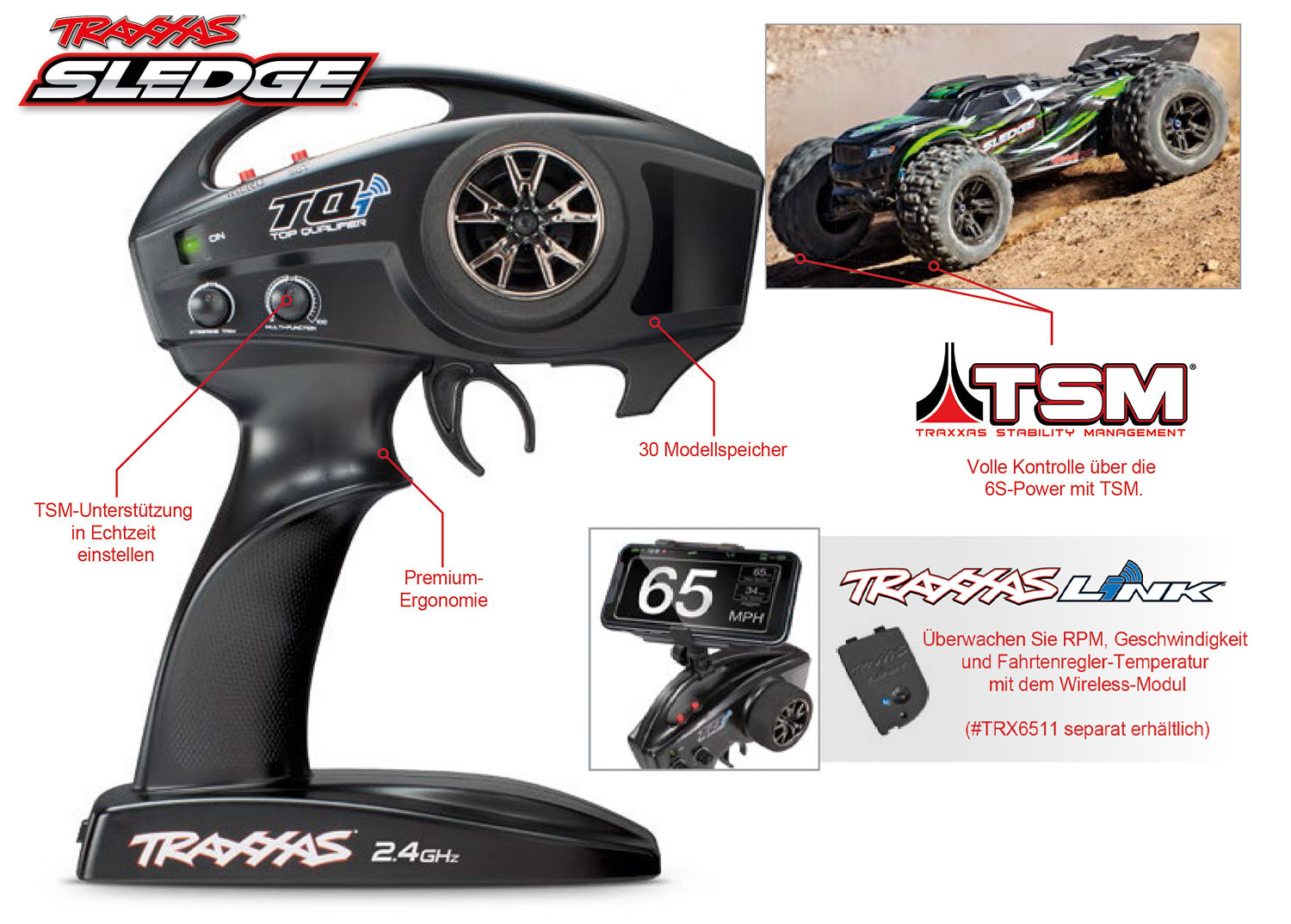 TQi™ FERNSTEUERUNGSSYSTEM
Das voll ausgestattete TQi-Sendersystem bietet ein erstklassiges Gefühl und Kontrolle mithilfe des integrierten Traxxas Stability Management. Volle Kompatibilität bietet die kostenlose Traxxas Link App über das optionale Wireless Modul für optimierte Abstimmung und Telemetrie.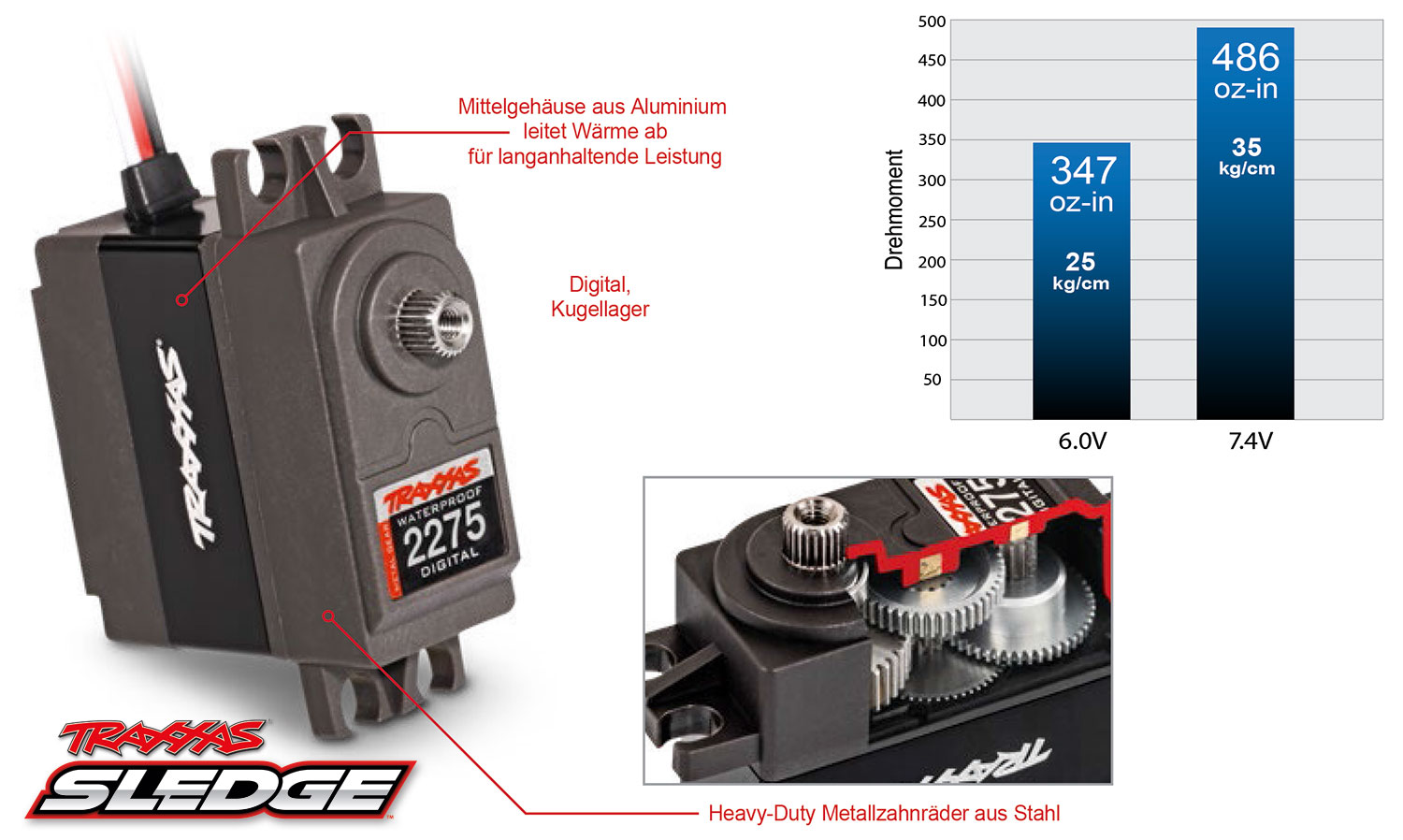 DIGITAL HIGH-TORQUE 2275 SERVO
Das Servo des SLEDGE ist mit einem leistungsstarken Metallgetriebe mit 50-80% Drehmoment ausgestattet. Vergleichbare Servos sind unterdimensioniert und zu schwach, um den starken Belastungen eines 1/8 Trucks gerecht zu werden. Das 2275 Servo benötigt kein Upgrade!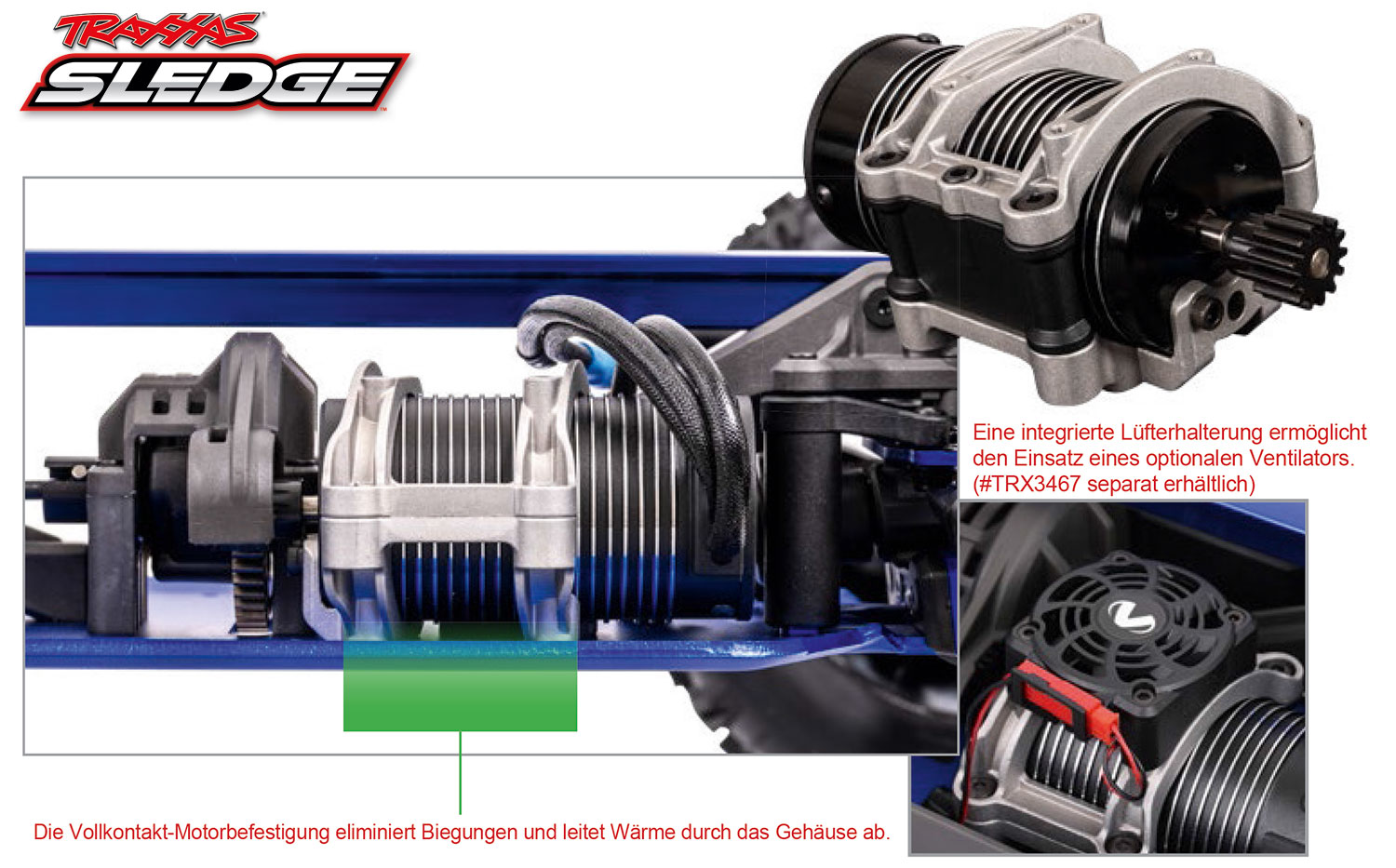 OPTIMIERTE ALUMINIUM MOTORBEFESTIGUNG
Eine Motorbefestigung hat nur die eine Aufgabe - trotz Belastungen und Crashs einen festen Sitz des Motors dauerhaft zu garantieren. Die SLEDGE Aluminium Motorbefestigung sorgt aufgrund mehrerer Befestigungspunkte für eine höhere Steifigkeit des Chassis und verhindert zugleich jede Bewegung durch die Power des Motors.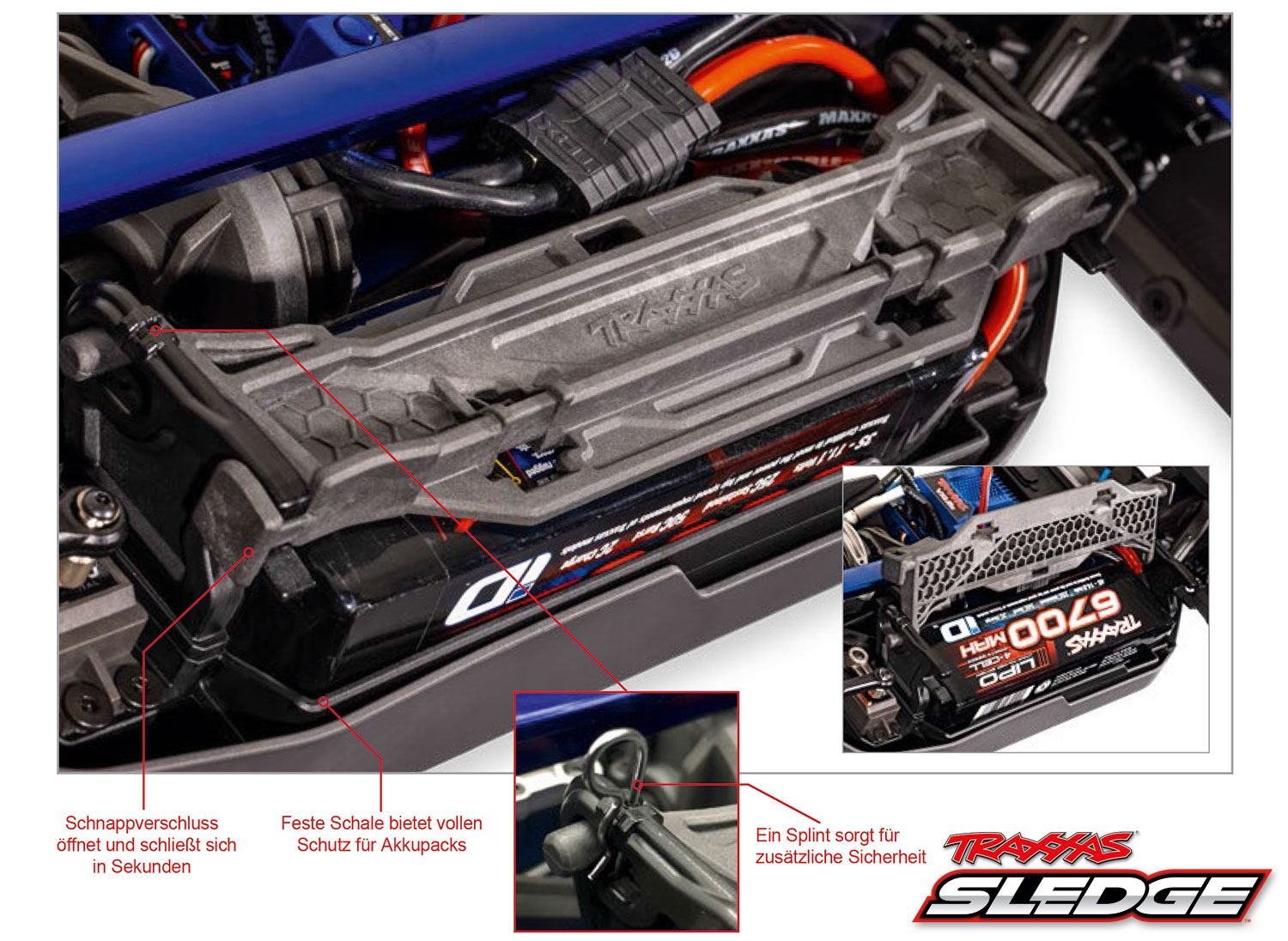 UMKLAPPBARE BATTERIEHALTERUNG
Klettbänder als Akkuhalterung sind unsicher und sehen nicht gut aus. Hier haben die TRAXXAS Ingenieure ganze Arbeit geleistet. Mit einer bewährten Schnappverschlussbefestigung werden Ihre Akkus sicher und fest gehalten. Das Wechseln der Akkus geht schnell und einfach von der Hand.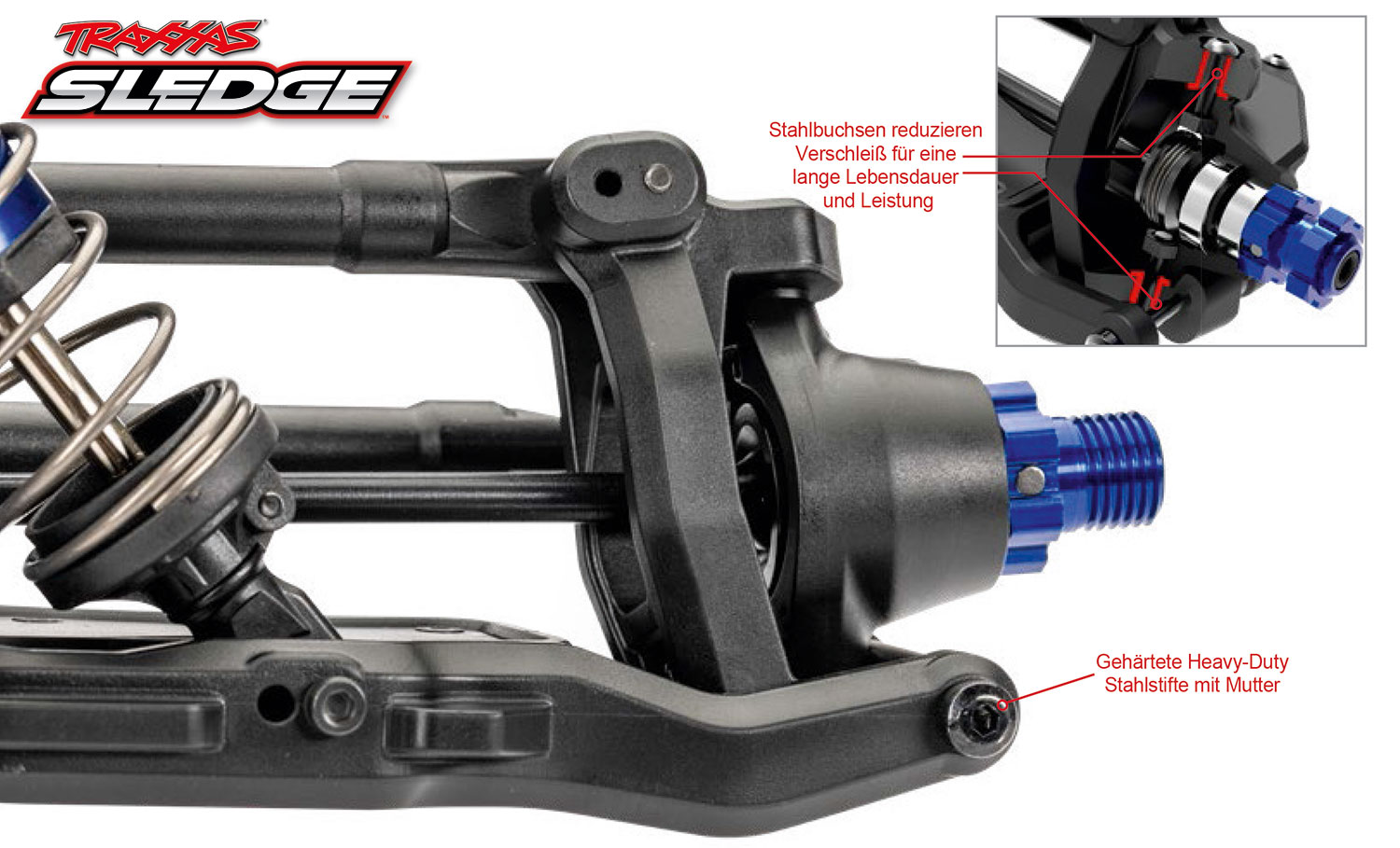 HEAVY-DUTY C-HUBS
Der SLEDGE verwendet eine überdimensionierte C-HUB Aufhängung anstelle der herkömmlichen Pivotball-Aufhängungen. Die C-HUB Aufhängung ist die ideale Lösung für einen modernen 1/8 Offroad Truck. Sie benötigt deutlich weniger Wartung, ist leichter einzustellen und kann sich nicht verstellen. Stahlbuchsen an den Drehpunkten verringern den Verschleiß und sorgen für eine lange Lebensdauer.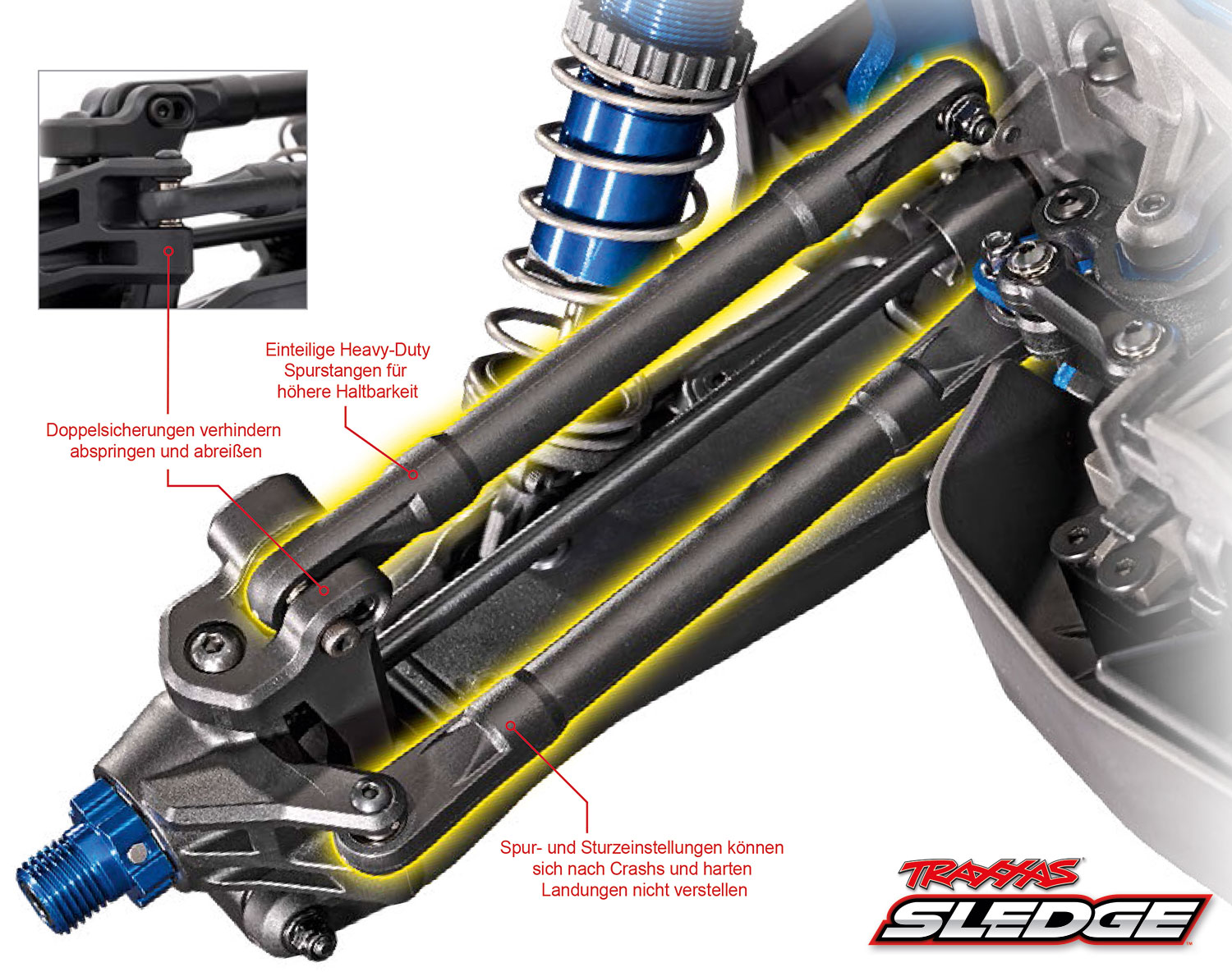 FIXE LENK- & STURZSPURSTANGEN
Einstellbare Aufhängungen haben ihren Platz auf Rennstrecken, aber zum Bashen sorgen feste Spurstangen für extreme Haltbarkeit. Mit diesen starken Spurstangen gibt es kein Verstellen oder Brüche. Doppelsicherungen verhindern ein Abspringen oder Abreißen der Spurstangen.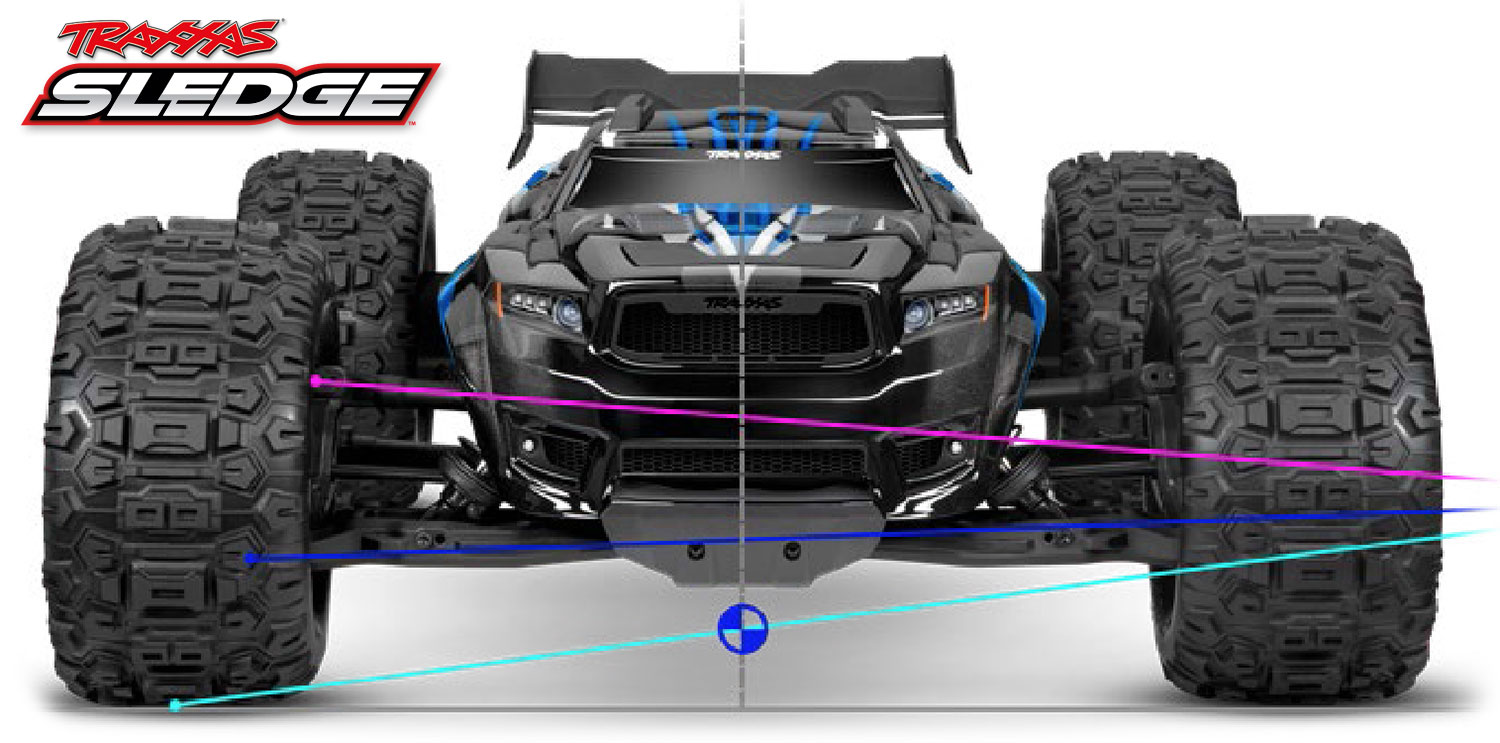 TRACK-READY PERFORMANCE
Der SLEDGE liefert dank seiner Überlegenheit bereits ein optimiertes Setup für jede Streckenbedingung. Dafür sorgt der ultraniedrige Schwerpunkt und das perfekte Fahrzeugdesign. Für Fahrer, die noch etwas mehr wollen, bietet TRAXXAS bereits erhältliches optionales Zubehör, um zusätzliche Einstellungen vornehmen zu können oder die Farben zu verändern.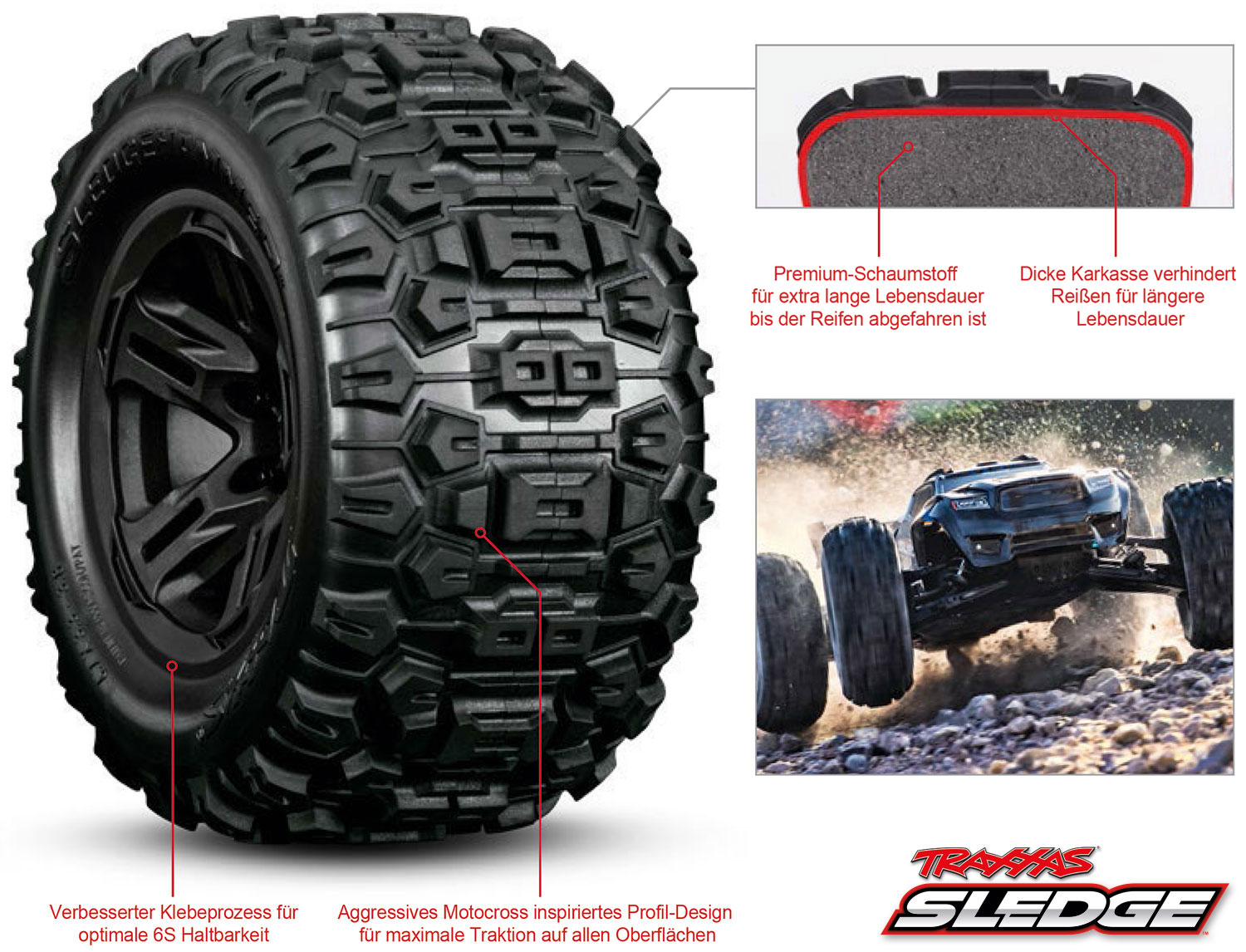 SLEDGEHAMMER® REIFEN
Das von Motocross inspirierte aggressive Profildesign haftet perfekt auf allen Bodenverhältnissen. Die hochwertige Schaumstoffeinlage ist ausreichend widerstandsfähig gegenüber die enormen Belastungen, denen sie ausgesetzt ist. Eine neue innovative Klebetechnologie verhindert ein Ablösen des Reifens von der Felge. Sledgehammer-Reifen können bis auf Slicks abgefahren werden, ohne sichtbare Schäden aufzuweisen.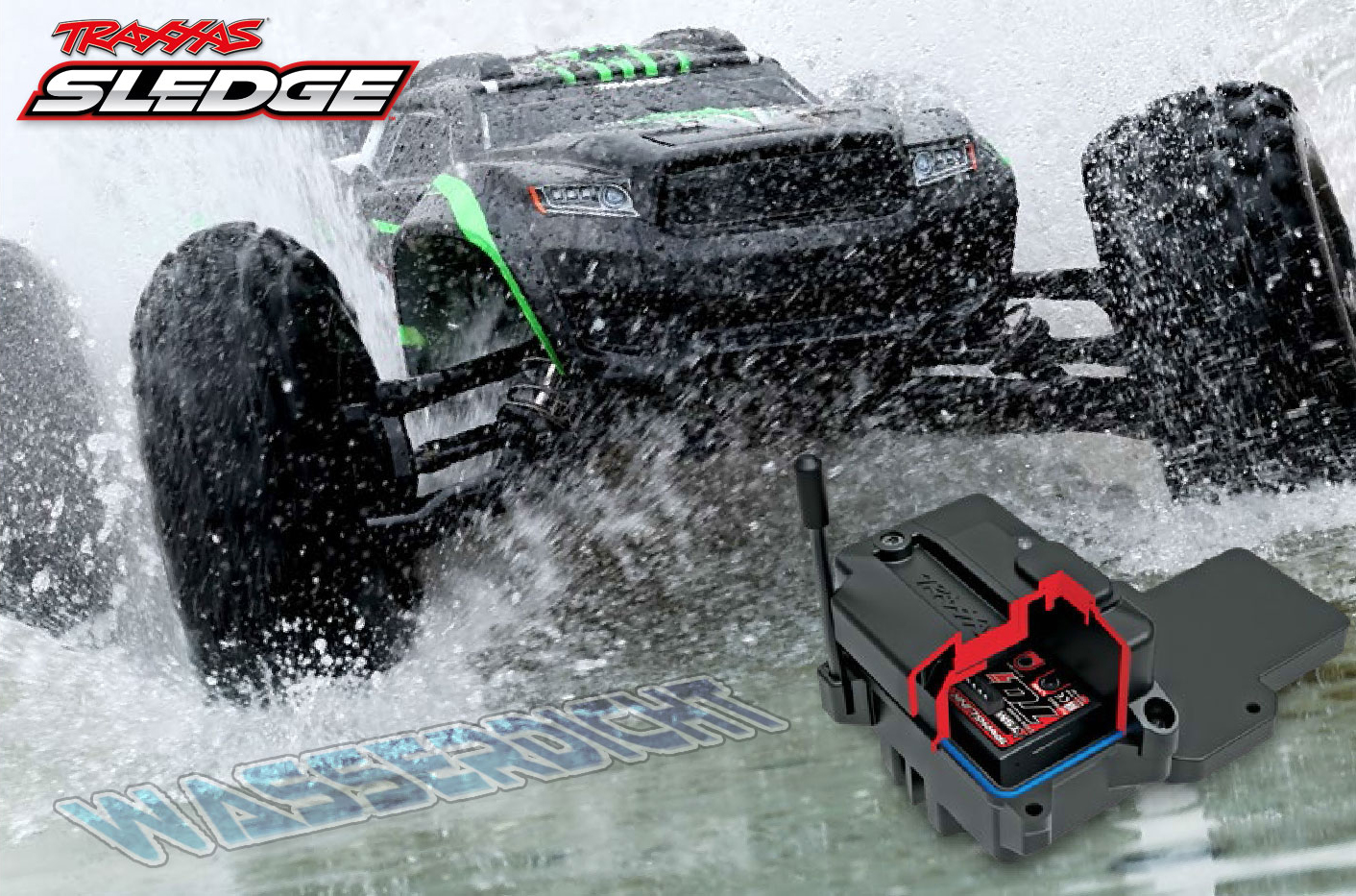 ÜBERLEGENE WASSERDICHTIGKEIT
Es gibt einen Unterschied zwischen wasserdicht und wasserfest. Der SLEDGE führt das patentierte Imprägnierungssystem von TRAXXAS fort und setzt Maßstäbe an Wasserdichtigkeit in der 1/8 Truckklasse.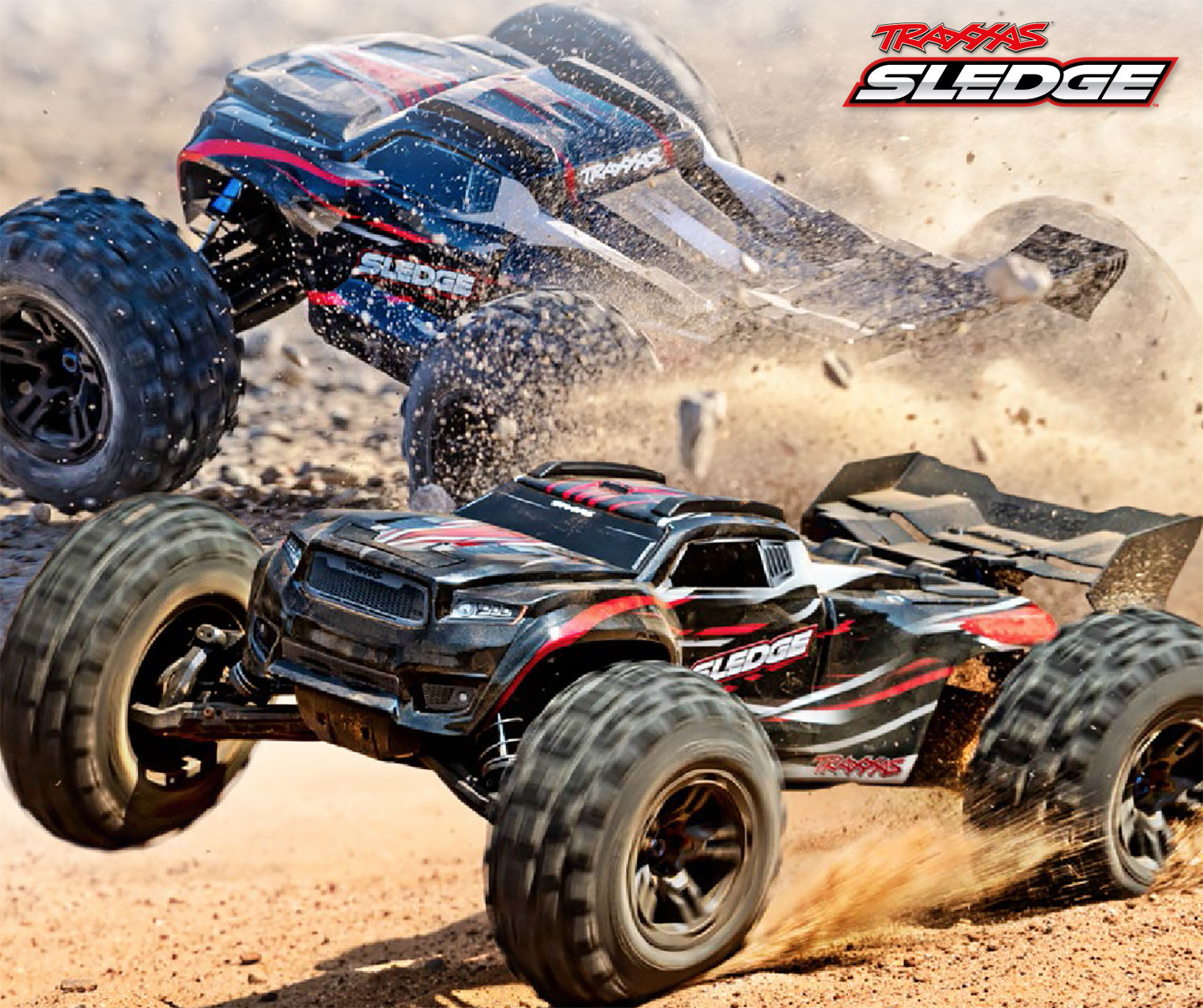 TAUSENDE TESTSTUNDEN
Neben dem Design und Engineering investierte TRAXXAS viel Zeit und Ressourcen ins Testen neuer Teile, bevor sie in die Endproduktion eingeflossen sind. Tausende Teststunden hat der SLEDGE hinter sich, um seine Haltbarkeit und Leistung zu beweisen.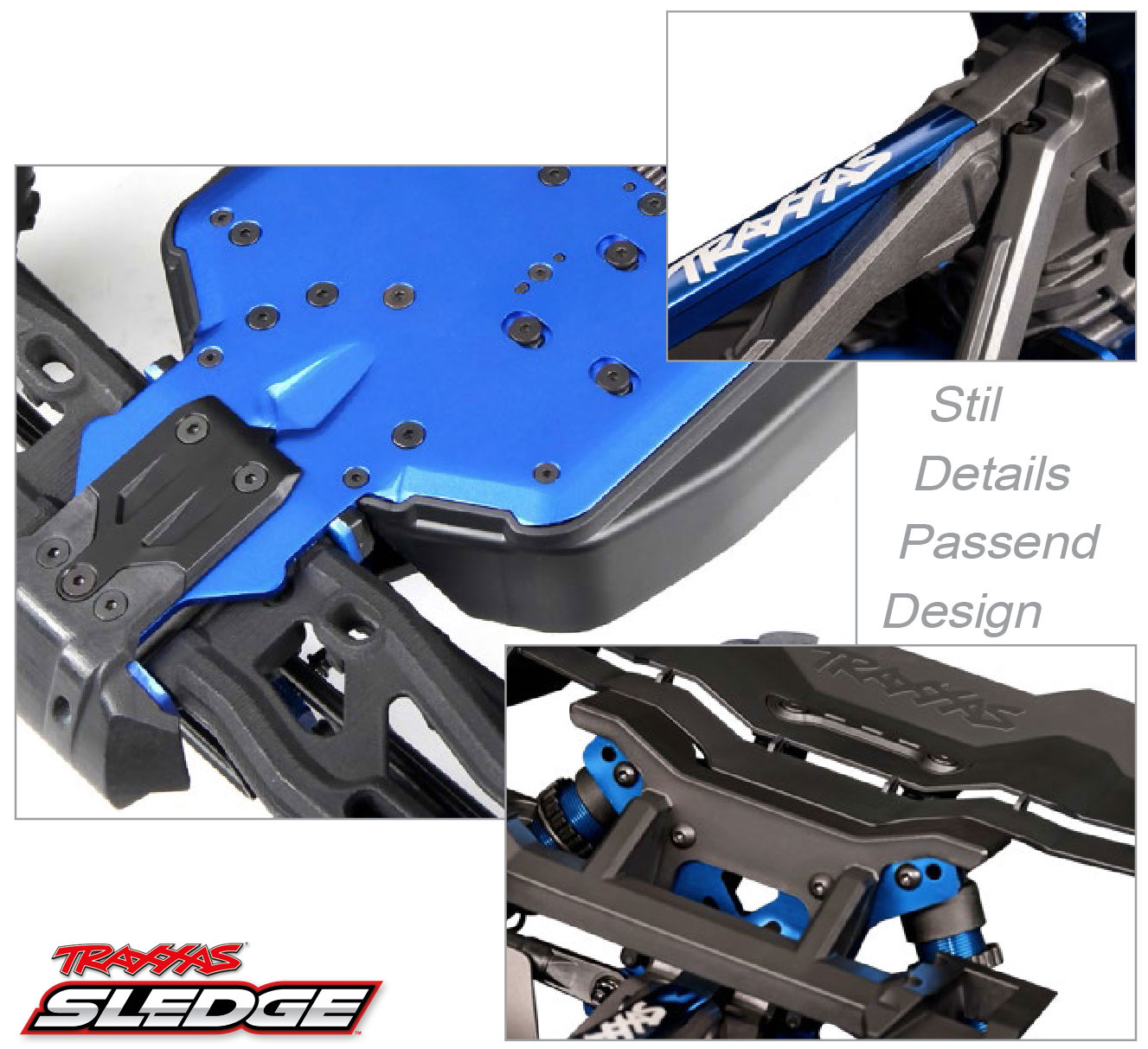 PASSFORM UND AUSFÜHRUNG
Passform, Verarbeitung und Detailverliebtheit sind beim SLEDGE einzigartig. Teile sind schön integriert, geformt und mit genau eingehaltenen Toleranzen montiert. Alle Kabeln sind versteckt verlegt und gut geschützt.
 
DIE TRAXXAS ERFAHRUNG
Traxxas ist bei der Entwicklung des SLEDGE direkt auf die Fehler und Mängel im 6S-Truck Segment eingegangen, um einen der leistungsstärksten 1/8 Trucks auf dem Markt anbieten zu können. Für den R/C-Begeisterten bedeutet das weniger Frust über defekte Teile und mehr Freude am Fahren und Bashen.
Der SLEDGE ist auf Erfolg ausgelegt.
 
Instruction Manual - SLEDGE RTR 1/8 Truggy 4WD BRUSHLESS